Eastide Non-Drinking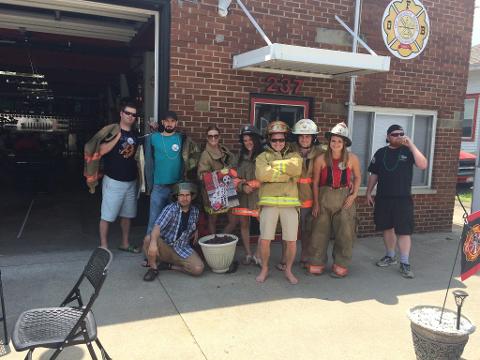 Duration : 5 Minutes (approx.)
Product code : PTLTUB
If you are driving or want to have a driver these are the perfect tickets for them. They get all the fun, education, trivia without all the beer. This ticket is for our sober folks who want to take a look at the great landscape and future of brewing in CIncinnati.


Our Eastside Tour is one of the most unique experiences you will ever have on a Brewery Tour anywhere in the United States. We go out to Old Firehouse Brewery where they have converted an old firehouse into a beautiful brewery (seen on USAtoday Travel) where they are making tasty brews. We will then head over to the Mt. Carmel Estate where they have turned their old house into a gorgeous Tap-Room with a Pond, a Porch and a Patio that is a perfect pairing to our tours. After that we will hit the now famous Fifty West Brewery a home built in 1827 back when folks were traveling East to West on Route 50, this old home has a unique charm and another great patio for porch drinking, their beer is best in class which was recently proven by taking Gold in the New York International Beer Festival. Our last stop is Bad Tom Smith Brewing named after the owners relative who was an infamous hired gun in the 1800's it is our smallest production brewery on our tours but provides a great atmosphere, good beers and a down home feel.
YOUR PICKUP LOCATION IS ALSO YOUR DROP OFF LOCATION
Please direct all Tips toward your tour guide for all tours. They will split the tips with the bus driver accordingly.
ID's Taken at the Door
Walkup's are Welcome but try and book online first, we sell out frequently.
GIFT CERTIFICATE POLICY:
Gift
Certificates are good for one calendar year after purchase date, no exceptions.
You will have a voucher code that is produced when it was purchased. Use that
to redeem your tour at your discretion in the APPLY Voucher code at booking. It
is important you reserve your seats prior to showing up on the tour to ensure
your seat. . Gift Certificates can only be used for Public Tours on Saturday.
No gift certificate can be redeemed for any private party or special Cincy Brew
Bus function.
REFUND POLICY:
Refunds will be given at full price if notified 4 days prior to the event. For example if you tell us on Tuesday by 12pm that you cannot make Saturday's tour we will refund your ticket. Any notification sooner than 4 days (Tuesday up to Friday at 12pm) up to 48 hours remaining before the tour can change the date of the tour to any viable date on our calendar (see online schedule). If we are not notified within 48hours (12pm on Thursday) there will be no refund given. Any weather related cancellation will result in "rain check(s)/Voucher(s)" for a future tour date within 1 year of the cancelled date.